If we told you there was something 95% of homeowners would look at that would make them over 300% more likely to work with you, would you do it?
The good news is this isn't a hypothetical scenario. The secret weapon to your boosted sales...online reviews!
No matter how you feel about online review sites, ignoring them is not going to be good for your business.

A 2016 Power of Reviews report finds that 95% of consumers rely on reviews for purchasing decisions, with approximately one in four people saying they look at reviews for every purchase decision they make. It's even higher for 18-44 year olds, with 30% consistently turning to reviews.
And these reviews are doing their job. The Spiegel Research Center at Northwestern University finds that reviews displayed for higher-priced items had a conversion rate of 380%, as opposed to just 190% for lower-priced items.
In addition to the overwhelming data showing people look at reviews, regularly making review requests a part of your job process is important for four key reasons:
1. To have social proof you're a real business (and a quality one at that). If someone does a Google search of your business and no reviews show up, it signals that you're either completely brand new and might not know what you're doing OR you're not a real business at all. Reviews are important to show that you're legit and do real work, and do great work at that.
2. To build your search presence. Having a presence on various review sites like Home Advisor, Angie's List, Porch and Houzz gives you clout and helps you show up more easily in search results. While there are a lot of mixed feelings on Google My Business reviews (primarily that it can be easy for fake reviews to enter the mix), it's also hard to deny that they can significantly boost your search rankings when someone searches for a home improvement business in your local area.
Pro Tip: Not a fan of Google My Business Reviews? Check out other alternative platforms like GuildQuality. See how contractors like Mike Damora are integrating reviews into their business process.
3. To keep your business presence fresh. If all your reviews are from 2009, people are going to question whether you're still in business or if you're currently accepting new projects! Having new reviews added to the mix shows you're still very much in business.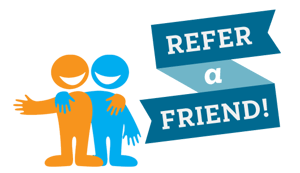 4. Use recent reviews in presentations to build trust. Displaying your recent reviews or current rating on your platform of choice in your sales presentations can build trust quickly with future customers. Want to see how to incorporate into your sales process? Check out how veteran roofer Tim Rimedio owner of Palazzo Restoration uses his perfect rating on Angie's List to build trust with future customers!
Ready to embrace collecting reviews? Here are 5 steps to get started.
Pick platforms where homeowners seek advice on future purchases
There are dozens of review sites out there. As we previously mentioned, home improvement industry-specific sites like Home Advisor, Angie's List, and Houzz are likely on homeowners' radars, alongside general review sites like Yelp and social reviews on Facebook if you have a business page.
Overall, pick a good mix of platforms to focus on directing your review requests. Select those that are going to give you credibility and are where you're already seeing some reviews pop up. Chances are you already have online reviews floating out there, and if you're not sure, a quick Google search of your business name is going to show you!
Pro Tip: Since there are so many reviews sites out there and you can't manage your online presence on them all, pick one to focus on.
Add asking for a review to your standard end-of-project wrap-up.
Project closures always come with sharing final paperwork and resources, and are often when a homeowner is still in the afterglow of work completion. This is the perfect time to do a small ask for a review, especially since you're likely to be engaging with the homeowner either in-person at their home or one-on-one over the phone/video chat.
Learn how Patrick Readyhough, owner of Pond Roofing incorporates thanking his customers and asking for reviews into his post-project wrap up process.
While we're big fans of all things digital, research from the Harvard Business Review shows that in-person or one-on-one asks are 34 times more likely to be successful than an email ask, which points to people responding to these moments of connection. Plus, if they're super happy with your work, they're going to be more receptive to spreading that message!
We recommend making it as easy as possible by combining the in-person/virtual ask with an email. Here's an example script you can use:
Hey, [NAME], it's been great working with you and we're so glad to see you're happy with our work! As we wrap-up, I was wondering if you would mind doing us a small favor and submitting a review to <insert reviews site choice>? Reviews are a big part of helping us grow as a business, both through your feedback and through building credibility for other homeowners who are looking for a contractor.
Once they agree, thank them and ask if you can send the link(s) their way via email or text so that they can easily get started.
Pro Tip: Don't ask them to write a positive review, which can make it seem less genuine and put them in a tough spot. Besides, chances are you already have an idea of how the review is going to go when you make the ask. If a client doesn't seem 100% happy with your work, asking them for a review is a chance to open the door of conversation and fix any concerns and issues BEFORE they go out on their own and provide negative reviews. That's why it's always good to frame this as an opportunity for you to learn more about the customer experience and grow from feedback.
Ask in a follow up email.
Another opportune time to get a review is in a follow-up after project completion. Send an email approximately six weeks after the project has wrapped to check in and see if they have any questions or concerns. Share links to any public postings you made about the project on your social media channels or website and thank them again for choosing you for their project. If you previously asked them for a review and they haven't yet completed it, give them a gentle reminder:
Lastly, we hope you'll still consider submitting a review about working with [INSERT BUSINESS NAME]. We'd certainly appreciate your time and the opportunity to learn more about your experience!
If you haven't previously asked them, end the email with a version of the full ask and link, mentioning that they are always welcome and helpful.
Post a link on your website.
Having a dedicated page on your website for testimonials is a popular route, but people can often question the legitimacy of the reviews. That's why it's good to include some "social proof while also encouraging past clients to leave feedback. Link to your favorite third-party review (as mentioned above), show any badges you've earned for positive reviews or exemplary service like Angie's List Super Service Award, and offer excerpts from reviews linking back to the review site they came from.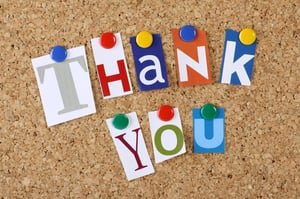 Offer a thank you or incentive
Having trouble getting reviews to come in? A customer thank you gift or an incentive is another common way to try to drum up some participation from past customers. Or maybe you can reward salespeople or team members who are able to get the most reviews or referrals with a gift card or an increased commission percentage. No matter which route, incentives can be a good way to jump start reviews coming in.
At the end of the day, the method of how to ask for a review for your home improvement business doesn't matter as much as the fact that you are actively asking! Reviews are a critical part of modern business. Don't miss out!