Sales Platform
Building your digital toolbelt
Many contractors are reflecting on 2020 and what they can do to increase revenue, number of jobs, and improve their overall business operations.
As we quickly approach the end of the year, many contractors take this time to reflect on 2020 and what they can do to increase revenue, number of jobs, and improve their overall business operations moving into the next year.
One of the first steps? Making the switch from pen & paper to a digital sales system. One Click Contractor offers a one-stop-shop for contractors to manage their sales process digitally from anywhere. With a digital solution you can continue to sell virtually, in-person, or hybrid. No matter what conditions 2021 throws at us, you are prepared!
What do you need to do right now to be prepared?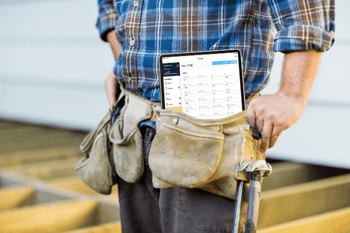 One Click Contractor is excited to help you build out your digital toolbelt, so you are armed and ready to take your business to the next level come 2021! We offer multiple integrations and have partnered with top companies across the industry to be able to offer you all the tools you need to manage your initial contact and estimate creation with a customer, all the way through signed contracts and collecting payment. Let's break down the steps to making sure you are set up for success moving into the new year.
1. Make the switch to digital today. Making the decision to make the move from paper to digital is one of the most important decisions to propel your business forward. Using digital solutions allows you all of the other benefits below, But first, you have to make the move off paper to enjoy all the other benefits of a digital sales process. Our speciality is helping contractor's to make this move to digital and tailor our sales platform to fit each company's unique business needs. See our sales platform in action
2. Get organized. Say so long to manilla folders and trying to find that piece of paper you wrote your meeting notes on a few days back. One Click Contractor offers digital job folders that store all job information in one place so that you can access anywhere, at any time.
3. Speed up your estimation process. Utilize our remote measurement tools (many are included in your One Click Contractor subscription) to quickly measure and move to an estimate in just a few clicks. Our powerful estimation tools create accurate job costs that can be changed into perfect proposals and agreements - fast.
Pro Tip: Utilize One Click Contractor's estimation templates to dramatically cut your estimation process from hours to a few seconds.
4. Close from anywhere, anytime. Customers concerned about having you in the home or busy schedules causing you to push off your appointment week after week? Meet with customers anywhere - with two-way screen share and video communication included for free with your One Click Contractor subscription. You can also utilize our partner Ingage to create professional-looking presentations that will communicate your unique business story and wow your customers. Your Ingage presentation is easily accessed right inside One Click Contractor.
5. Simplify your sales process and get paid FAST.

You no longer have to drop off physical contracts. Simply send over your contract via email to the customer, have them use our e-signature capabilities and then accept ACH/ECH payments through one of our financial partners. Have a larger job that customers are worried about cost and cash flow? Utilize one of our many financial partners to offer financing to them directly through our platform at NO COST to you.
These 5 easy steps can help you completely transform your business and drastically increase your closed jobs and overall sales. You would never leave for a job without your toolbelt, don't run your business without your digital tools!
To learn more about One Click Contractor and how we help you close for jobs and make more money. Schedule a consultation with a member of our team today.