Virtual Selling
Make your onboarding experience a huge success
Here's the inside scoop on the key points to keep in mind during your onboarding experience with One Click Contractor to ensure success.
Deciding on a new software solution is a big step, and the onboarding process can be stressful.
At One Click Contractor we will NEVER let you get overwhelmed while helping you set-up inside our tool. Our dedicated customer support team is here to guide you every step of the way, but onboarding can't be completely successful without the right approach and mindset.
We spoke with our team members and got the inside scoop on the key points to keep in mind during your onboarding experience to ensure success.
Embrace change for a smooth transition
Change can be challenging, but it's always necessary to move forward.
Be open minded to learning and trying new tools, take in as much information as possible, and stay flexible as things begin to change. As things start to take shape, you'll enjoy seeing the pay-off of less stress and easier processes.
Take it one step at a time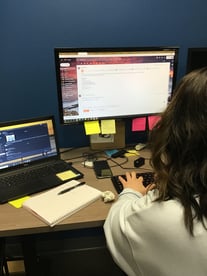 Keep it simple and remember you don't have to overhaul everything at once! Start by addressing your biggest challenges. Once you're comfortable inside our platform and have set-up those initial processes and tools, every step becomes easier. Soon your business is operating at a whole new level of efficiency.
Not sure where to start? Your customer support specialist can help you identify your priorities and guide you in the right direction.
Utilize One Click Contractor support
Our customer success team is what makes One Click Contractor different. As a company created by contractors for contractors, we are up-to-date on industry issues and are confident in coaching you every step of the way.
From identifying your priorities to helping you troubleshoot, we'll be here long after the onboarding process is over. Consult with us anytime! We also have helpful tutorials and more in our Resource Center. Remember, your success is our success.
Ask questions free of charge (and embarrassment!)
Not tech-savvy? No worries, we work with people on each end of the technology spectrum, including those still mostly using paper for their processes. We're prepared to meet you where you are, eliminate your pain points and stress, and ultimately increase your profits.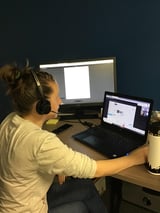 In order to be as supportive as possible, we help with troubleshooting and Q&A for free! Have a question? Ask away! You'll never have to worry about extra charges or adding on a support package just to get answers or guidance.
Practice is important
Spend time inside the One Click platform and practice how to use the different functions of the tool to get comfortable. Test out our measurement features, build estimates and agreements, practice making calls and presentations, all inside the tool with our built in screen sharing capabilities. With all of the various functions in ONE central location, you'll quickly see how the tool will help make your sales process and life so much easier.
---
Our team is ready to help! Learn more about onboarding and how One Click Contractor WILL work for your business. Schedule a time to speak with one of our consultants.