From endless paperwork and unfinished proposals to countless hours measuring and estimating, we've seen your pain points (and even lived them ourselves).
In the wake of COVID-19, it's clear that now more than ever is the time to transform your business to include a virtual sales experience. Contractors who embrace this new normal are the ones who will thrive throughout this pandemic and beyond.
We built One Click Contractor to be an all-in-one platform to visualize, estimate, and build professional proposals that only take a minute to create. It integrates with your favorite industry-leading tools, including CoreLogic SkyMeasure, Renoworks, HOVER, as well as financing options to give your customers the ability to pay online. With easy-to-use screen share and video capabilities, your sales process can be 100% remote.
The best part? We make onboarding so easy that anyone could do it.
Who are the people behind this technology? One Click Contractor is a team of experience meets function. We don't just have decades of experience in the Home Improvement Industry; we're also experts at developing user-friendly tech solutions to help contractors get their work done–fast.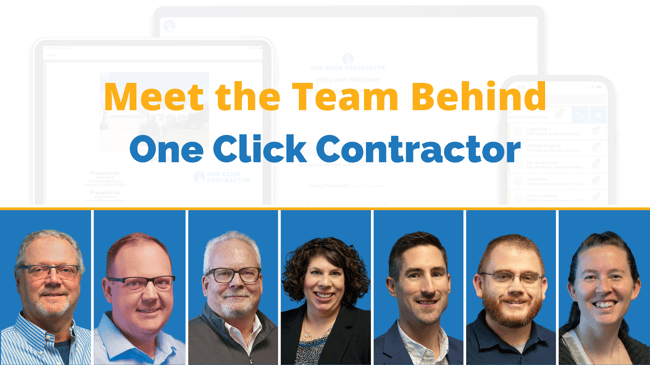 The Tech Product Team
Dale Thornberry, our Founder & CEO, has an ambitious career bringing tech innovation to the Home Improvement industry. He's been on the leadership team of cutting-edge tools, including GeoEstimator, Hover and Eagleview Roof Measurements. At the end of the day, his number one goal is to see contractors boost their business with tech tools that make it efficient and easy to succeed.
"We've spent four years building One Click Contractor to give home improvement pros a one-stop digital platform to make money, save time, and never miss out on clients and dollars again," he said. "We never could have predicted the COVID-19 pandemic and the even more crucial need for our application. Now contractors have a solution to make sales and build their business even when they can't step foot in a homeowner's house. These times have made our mission more important than ever."
When not guiding One Click Contractor to it's next big idea, Dale is an avid bike rider, spending time with his wife Julie, kids and grandkids, enjoys boating and always up to help a friend or family out with their next home improvement project.
Chris Thornberry, Chief Technology Officer, has worked alongside Dale for almost two decades, bringing his background at Eagleview Roof Measurements, HOVER, and more to One Click Contractor.
"It's exciting to put a product into the hands of contractors across the country knowing it can truly transform their business and bottom line, especially in challenging times like these," he says.
His specialty? Making sure the technology delivers on its promise and guiding the overall tech team, including Lead Developer Mark Garringer. Mark is also a vet of the team that put together countless other leading home improvement tech solutions, architecting the software to be effective and user-friendly.
When Chris is "off the clock" he usually can be found shooting photos of a marathon or a Karate tournament. Chris packs a mean punch both in writing amazing code but also while doing Shorei Kai Karate - Chris is actually a 2nd degree black belt!
The Customer Team
Name a role in the home improvement industry and Bill Phillips, VP of Business Development, has probably had it. He weaves a background on both sides of the industry—a retailer and manufacturer as well as a contractor—and knows the ins and outs of being in the home improvement industry.
"My years in leadership roles for companies like Black & Decker and The Home Depot gave me great insight into the industry, but nothing teaches you about the industry like the day-to-day operations of a contracting business. My experiences support One Click Contractor's mission to drive change and give contractors an easy tech solution to uplevel their business in minutes."
Rachel Johnson, COO/CMO and Eric Gossard, Director of Sales & Partnerships are both Angie's List vets experienced in educating customers and supporting product sales. They bring extensive Home Improvement industry experience to the team and have a unique perspective on the contracting business, including the common challenges and goals contractors face every day.
When she's not working on sharing the One Click Contractor story with the world, Rachel can be found taking photos of her three cute kids
Sign up for One Click Contractor and Trina Pool, Director of Customer Engagement and Support, is ready to help you make the most of your experience. When not at work, Trina enjoys eating chips and salsa (really anything spicy) and taking long hikes with her husband, two boys and her two dogs.
"One Click Contractor stands out for its dedication to client onboarding. My goal is to make sure every customer has a tailored experience. This means that One Click Contractor is set-up for how your unique business operates and that you have the training and support you need to successfully incorporate it into your daily operations."
Connect. Click. Compete. Want to see what One Click Contractor can do for your business? We're here to help!