In a world where good leads are scarce, you need to make the most out of every potential customer who raises their hand to show interest.
HomeAdvisor and One Click Contractor have teamed up to provide contractors with strategies to efficiently capture and work a lead through the entire sales funnel, all while utilizing technology to enable your virtual or in-home sales process.
#1 Document Customer Information In Your CRM
When a lead comes in from HomeAdvisor, make it a habit to document that lead's information in your CRM or system of record. You can house all of your customer information in one place, allowing you to easily work the lead because your team isn't digging through papers or in multiple systems to find the lead information. At every touchpoint, you can track the lead through your sales funnel and have at your fingertips the resources you'll need to sell the lead.
Don't have a CRM? No worries; sales productivity platforms like One Click Contractor have CRM lite functionality that allows you to store customer information.
#2 Don't Let a HOT Lead Sit Idle
As soon as you get a legitimate lead, reach out to them at your FIRST opportunity. Timing is key when responding to leads, even if you get the homeowner's voicemail.Homeowners are far more likely to choose a contractor who calls them back first. Call or text the homeowner back more than once if you don't reach them the first time. Your persistence WILL pay off!

#3 Use Text Over Calling
According to research, text messages have a 209% higher response rate than phone, email, or Facebook. Homeowners are significantly less likely to answer a call from an unknown number rather than respond to a text. That's why most calls during normal working hours go directly to voicemail! It is much easier and more convenient for a homeowner to read a text message quickly vs. listening to a voicemail and calling you back. So when you want a quick response, use text over calling.
#4 Never Let an Inbound Call Go Unanswered
NEVER let an inbound lead go to your company's voicemail! It's worth stopping what you're doing or hiring someone so that no inbound calls ever go to voicemail. Many homeowners will not bother to leave a message. If you don't answer, they will just move on to the next name down their list. Don't miss an opportunity because you and/or someone on your sales team couldn't get to the phone.
#5 Offer Both In-Person And Virtual Appointments
When you connect with the lead make sure they know that you offer both in-person and virtual appointments. According to our contractors who offer virtual appointments, 96% of homeowners preferred the virtual sales process over an in-home selling experience, and enjoyed it more as well. The fact that you offer virtual appointments, especially in the current environment, is a HUGE competitive advantage that many of your competitors cannot offer.
#6 Use Technology To Work Ahead
Use the tools at your disposal, making the most out of the time you spend with your future customers. How you structure the appointment is key! Use measurements you've collected from pictures the customer has sent you or imported from a remote measurement tool. These details can save you time which can be spent talking with the customer about their vision for the project. Once measurements have been collected (either manually entered or imported using remote measurements), create your estimate to present to your customer. Using a software application like One Click Contractor will streamline your sales process to go from estimate to agreement with the click of a button.
#7 Make Sure You're Ready To Put On a Great Presentation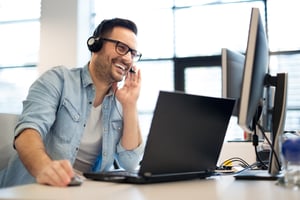 When the appointment is scheduled, get your head in the game and be ready to present, regardless if it's in-person or virtual. If you're presenting virtually, make sure you're taking advantage of virtual selling tools and that those tools are ready for prime time. In order to give your best virtual show, you need to have a few technology solutions available to make your presentation a success.
This includes:
• One or two-way video conferencing
• Ability to send invites either to a homeowner's cell phone or their email
• Screen share capabilities so there is no need to switch between tabs on your browser
• Ability to easily go over the estimate and change things on the fly
• Remotely capture photos
When presenting to a customer in-person, make sure you wear a mask if you need to enter the home and you respectfully socially distance yourself from the homeowner. Always determine your customer's comfort level regarding direct interaction. You can always utilize techniques like Curbside Selling where you're able to share product samples with the customer, but you're still respecting social distancing practices.
#8 Don't Leave The Appointment Without Next Steps
Once you've presented the customer with their options, including a customized estimate, and a clear path to get to that YES! Do not leave an appointment without specific next steps and a timeline for follow up. Remember, the homeowner invited you into their home because there is a need. If they invited you in, they are serious about having work done on their home. It is a disservice not to make an offer to a customer in need of your products or services. ASK for that sale and BE CONFIDENT.

#9 You're Sitting On A Rehash Goldmine
If you don't get a yes on the first appointment, utilize a rehash program to revive potential lost sales opportunities. Since all of the information about the job is stored in one place under the customer's name in One Click Contractor, it is easy for the person running your rehash process to reconnect with the homeowner and try to recapture the sale. One of the most successful ways to reconnect with a lead is a simple text message asking if they're still interested in discussing options with their roofing project or if they have any questions or concerns you can answer.
#10 Referrals and Reviews
Sites can be the source of your next HOT lead word-of-mouth referrals and ratings review sites like Angie's List or the BBB can be your best source of new leads. Ask for the referral every time a customer has a great experience with you and if they will recommend you to their friends. Most homeowners are very well connected within their community, both on and offline. If it's online, ask if they can recommend you through Facebook or the Nextdoor app, and leave a review on sites like Angie's List. The credibility of a 5-star review can help you acquire your next customer easily when they read about your professionalism and quality work.
---
Get the Complete Strategy Guide
If you found the information in this article useful, check out the complete strategy guide on optimizing your leads by hitting the button below. You'll learn:
✅ How you can make technology work for you in your lead optimization
✅ Why offering both in-person and virtual appointments will differentiate you from your competitors
✅ Why you're sitting on a lead goldmine and how to take advantage of it