If the thought ever crossed your mind, "I can't sell roofing online", we get it! You love meeting with a homeowner face-to-face, see their home in person, gather measurements, and take pictures with your own camera, phone, or tablet.
The truth is, 96% of homeowners don't really want you in their home anyway (and that was before COVID-19 entered the picture). So how do you keep selling when the landscape for selling home improvement services has changed?
Hopefully, you're open to the idea of being a virtual selling contractor. You know your competitors are getting into the virtual sales game. You know this is the future of home improvement sales and you don't want to give up market share.
Roofers and home improvement contractors who transition to a virtual sales process have found it boosts their customer engagement, increases their closing rate, and saves time while making them more money.
Here are the steps you'll need to take so that you can succeed at selling roofing online.
#1 Choosing a Sales Process
Before you get started with virtual selling, you need to select your methodology. There are two schools of thought: 100% virtual or part virtual-part in-person.
The 100% virtual selling methodology is where you utilize virtual tools to measure, collect job scope, estimate, e-sign the agreement, virtually collect payments, or offer financing. In this model, you don't actually set foot on the property until you put the roof on the house.
If you use the methodology of part-virtual part in-person, measurements are usually collected virtually, and then a data collector is used to measure and collect job scope including measurements and photos. After job scope is collected in-person, the rest of the sales process can be completed virtually.
#2 Pre-Sales Prep
Every successful virtual sales experience starts with an organized lead-up to your sales presentation.
Ensure you have all of the necessary job data in one place. This could include the lead details, project details, project notes, the customer's address, and valid contact information—all accessible and organized digitally. The Customer Tab in One Click Contractor is where you can store all information so that it's easily accessible for both a 100% virtual sales process or a combination virtual/in-home sales process. Having your job folder prepped and ready will make you look professional and show you have all your ducks in a row.
A Customer Relationship Management (CRM) tool will make your sales process more efficient and sales metrics easier to measure. This allows you to organize all lead details, including contact information and meeting notes. Many popular CRMs that exist -- Salesforce, MarketSharp, JobProgress, ImproveIt 360, Job Nimbus, LeadPerfection, and SalesRabbit -- all integrate with One Click Contractor. If your company is utilizing a CRM you should push lead/appointment data from your CRM into One Click Contractor. After a job is sold, the job status or disposition can be pushed from One Click Contractor back into the CRM for reporting purposes.
#3 Gather Job Scope

When you first connect with your lead, give them a quick overview of the steps of your sales process so they know what to expect from the start. Highlight that you offer both virtual and in-home appointments (f you do) and how the virtual sales process will make this a quick and efficient process for them, cutting the amount of time you'll need to spend at their home. Ask the homeowner if they would like an in-home or virtual appointment. Regardless of which option a homeowner chooses, be sure to share any expectations for their role in the sales process, such as their assistance providing photos of their home. If you're planning on having a data collector help gather job scope, you can utilize technology like CompanyCam to document photos and notate items. Then, those photos are pulled into One Click Contractor and stored on the customer's job record for easy accessibility.
You can send someone out to the house for traditional measuring tactics, or you can stay 100% virtual with remote measurement tools like Eagleview, QuickMeasure, CoreLogic, and Roofscope. If you are able to get out to the home to take photos, you can utilize HOVER to collect measurements from the photos and even build a 3D model of the home. When connected to a sales platform like One Click Contractor, you can transform the measurement data into an estimate with the click of a button, streamlining your process even more.
#4 Put on a Great Virtual Presentation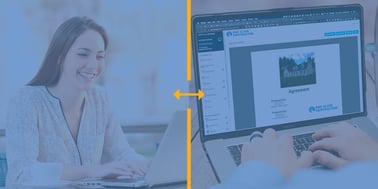 In order to give your best virtual show, you need to have a few technology solutions to make your presentation a success.
This includes:
- One or two-way video conferencing that's reliable, has no meeting time limit, and doesn't require the client to download any software or browser extensions to make it work.

- Presentation invitations that can easily be sent to a homeowner's cell phone or their email

- Easy screen share capabilities so you don't have to switch between tabs on your browser (switching between tabs might make you look like you're not professional or prepared for the presentation)

- The ability to easily go over the estimate and change things on the fly

- Remote photo capture that allows you to text a customer a link to take and send photos for you of problem areas you might not be able to see from satellite or a remote
Establish yourself as an expert.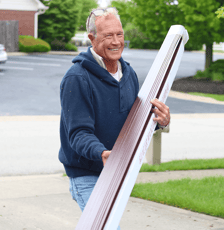 Take some time to introduce yourself and your company. Provide a little background on your experience. It's also good to provide "social proof" from actual past customers. Former client testimonials, Google or Facebook reviews, and awards from companies like Angie's List or the BBB are great signs of "social proof" that can put a homeowner at ease. That being said, don't spend too much time on this part of the process! The homeowner and their roofing needs are still the number one focus of this presentation.
Bring a homeowner's vision to life with design tools.
Let's face it, it's really challenging for most homeowners to envision their entire roof with a small shingle sample. Visualization tools can be deployed from inside the One Click Contractor platform under the design tool tab to help the homeowner truly fall in love with their home all over again. That's why visualization tools are so important!
Provide pricing transparency.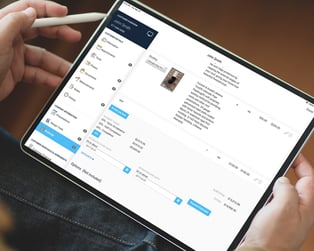 Transparency not only wins you jobs, it also exemplifies trust, and trust is what keeps the referrals rolling in and your crews working. Throwing a big lump number out there might make the homeowner feel like you're just throwing out a price without the right information gathered about their job. The flexible estimator tool is a great way to showcase the quality of products you use and the warranties you provide (like GAF Golden Pledge Warranty) so they can understand exactly what they're getting, from the tear-off and labor to the vents and hip and ridge cap, to standard or designer shingles, etc.
Check out this video of virtual sales vet Tim Rimedio in action selling a roof virtually!
#5 Close the Deal
Once you get a yes after the presentation, it's time to close the deal with an e-signed agreement. One Click Contractor's platform allows you to indicate what manufacturer collateral, photos, company one-pagers, and design images to use to generate this agreement with just a few clicks. Once complete, the contractor can email the agreement over to the customer or, if in-person, they can also sign on-screen using the e-signature feature included at no additional cost in the One Click Contractor Platform.
Make it even easier for the client to work with you and complete their purchasing by offering them a secure way to enter ACH or credit card information or apply for financing.
Don't get a yes right away? Utilize your rehash program to revive potential lost sales opportunities. Since all of the information about the job is stored in one place under the customer's name in One Click Contractor, it makes it easy for the person running your rehash process to pick up with the homeowner and try to recapture the sale.
Start Succeeding at Selling Roofing Online!
Becoming a virtual selling pro is well within reach, especially when you have the right tools in place to streamline your process and lead your homeowner through an efficient, organized sales experience.
In our free, comprehensive guide, you'll learn:
✅ Why you shouldn't wait to get into the virtual selling game
✅ Easy steps to build your virtual sales process
✅ How to nail your sales presentation
✅ An effective rehash strategy to connect with homeowners who aren't an immediate "yes"
✅ How to easily close the deal