The first half of 2020 dramatically changed the economy and how all home improvement contractors sell. Under social distancing guidelines and stay-at-home orders, an interior contractor's ability to go inside a customer's home is extremely limited. How will your business adapt to the new way homeowners are buying home improvement services?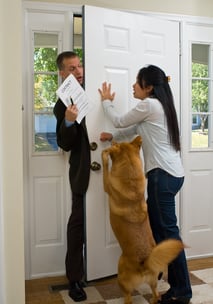 Homeowners have already embraced virtual selling for items ranging from clothing to cars to houses. One Click Contractor's Virtual Platform was designed specifically for home improvement contractors to sell from anywhere. It doesn't matter your vertical if you're selling roofing, windows, or a new kitchen or bathroom.
Technology solutions allow you to collect data, create estimates, connect with your customers, sell the job, and gather payment remotely. By conducting your entire sales process remotely with One Click Contractor, your customers will appreciate the additional effort you have taken to ensure their safety. The result: more new and repeat satisfied customers.
Although it might sound too good to be true, it truly is possible to sell your jobs remotely from your home office. Virtually present options, discuss designs, finalize the estimate, and do it all while practicing social distancing and respecting the homeowner's safety. Here are three easy ways you can utilize virtual techniques to keep your business running smoothly and satisfy your customers.
We're going to give you - interior contractors, designers, remodelers - the best practices for gathering job scope, sharing your designs, selling the job, and closing the deal - all done virtually.
#1 Gathering Job Scope Remotely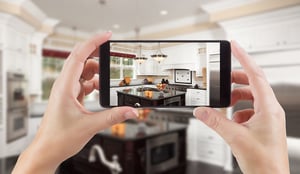 Gathering accurate measurements as an interior home improvement contractor can make or break your profits for a job. If you're off a few inches it can seriously impact the job. One way to collect job scope virtually if you are unable to enter a customer's home is to have the homeowner take pictures to determine the scope of the project and collect measurements. Within the One Click Contractor platform, you can text a link to homeowners enabling them to take and upload photos of their home. For instance, have the homeowner use a tape measure and then snap photos of the space with the tape. These images can be stored in their customer record in One Click Contractor. You will then have valuable insight into a potential job, without any need to set foot on the property.
#2 Create the Designs & Estimate Online
The next step in the sales process is creating an estimate and, if applicable, designs for the job. Rather than guessing and then running the numbers, One Click Contractor's digital sales platform allows you to create estimating templates which you can then edit on the fly to quickly generate accurate digital estimations. You can easily pull in the data you gathered for the job scope and push it to an accurate, customized estimate fast. Make sure to include images of the products you're using for the job, including pricing and incentives, at this stage of the sales process.
#3 Virtual Sales Presentation
Once you've prepared your documents and presentation, you're ready to invite your customer to a virtual meeting. Using screen share, you can show the materials in real-time and walk the homeowner through the complete process and sell the job.
You've shared with your customers their options, established final designs, presented a customized estimate, and emailed them a beautiful agreement. You've put in the hard work and done all the right steps in the sales process. The only question remaining is how to get that "YES" and close the deal.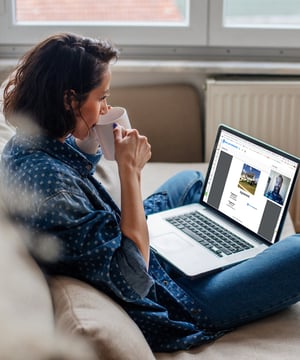 Through the One Click Contractor platform, homeowners can easily sign their agreements digitally through email with legally-binding signatures (included at no additional cost). Contractors can use the same platform to effortlessly collect payments online and offer financing options. Create efficiencies and improve cash flow, with the click of a button -- it's easy and painless.
Pro Tip: If you want your customer to form an emotional connection by physically touching samples and seeing them in their home, drop off a sanitized sample kit to the customer on their porch or practice "Curbside Selling" where you set up a card table in the customer's driveway. You can then set out sanitized samples, get back in your vehicle, call the homeowner on the phone, and let them come out and see the samples while you talk them through your design.
Pro Tip: Customers want to buy on their terms. You must meet your customers where they are -- whether that's at their kitchen table or virtually. Using technology like Ingage.io, you can quickly create and customize interactive sales presentations, sharing the best content with your team members and homeowners from any device.
Win at Virtual Selling Today!
One Click Contractor's sales productivity solution allows contractors to still measure, estimate, present options, sell, close the job, and get paid, all without ever setting foot on the homeowner's property. By taking advantage of these techniques, you can continue to grow your business during this difficult time.
Get started with virtual selling today by checking out these very helpful FREE RESOURCES we have created at One Click Contractor.